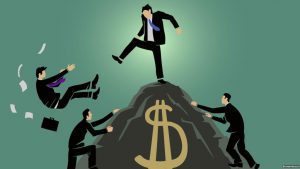 In the world of jurisprudence, without a partnership and cooperation with colleagues, it's simply not really possible to look for clients. If you are a guru in one practice, then a colleague – in another! And if you work together, it turns out a super tandem of professional help depending on the problem situation!
Among our friends are politicians, government officials
and businessmen or family members (including taking into account the nature of the family's joint living, the connection with a common life and the existence of mutual rights and obligations) of persons who are subject to the Law of Ukraine "On the Prevention of Corruption", or are "officials of legal entities of public law".
 
And this means electronic declaration and monitoring of lifestyle. Knownly unreliable information in the declaration provides for an administrative fine, as well as criminal liability, as well as the responsibility for violating the law on conflict of interests.
That's why I introduce you to the new partner of "GARO & PARTNERS" LAW FIRM, a well-known Ukrainian lawyer, teacher and TV presenter, Regina Huseynova, who has extensive practice in applying anti-corruption legislation and is ready to help on the following issues:
Work with requests and letters from NSC, police, NABU.
Monitoring of the circumstances and possible activity of NPCs and other structures regarding the customer.
Providing legal assistance in carrying out criminal proceedings against NABU, police and other law enforcement agencies.
Provision of services in the area of NPC action in relation to financial control and lifestyle monitoring.
Providing consultations in adjacent areas of e-declaration: taxation, currency declarations and control, etc.
One-time checks of property status by individual orders for all types of open and closed registries.
Electronic declaration.
Receiving digital signatures (if necessary)
Prompt receipt of income statement in local DFI online (if necessary)
Analysis declarations for the past period.
Checking the information provided by the customer to ensure the completeness of the declaration.
Work with the register of real rights to real estate and related registers.
Work with the Unified State Register of the Ministry of Internal Affairs (transport vehicles).
Work with the Unified State Registry (on corporate rights)
Work with land cadastre.
Work with other open and closed sources to ensure the completeness of the declaration.
Processing and systematization of customer's and extra received data.
Filling, submission and control of the adoption of the NOC declaration.
Maintenance of the verification process of the NSC submitted declaration (if any).
Accompanying the change in the declaration if necessary.
Realization of the current monitoring and registration of current changes in the property status of the customer in accordance with the Law "On Prevention of Corruption", the NOC notification (if necessary).