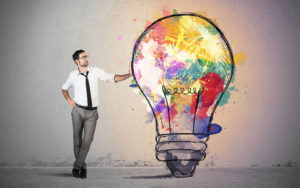 Do you have creative and profitable ideas? Are you creating musical or artistic works? Invented a completely new and interesting startup, but do not know where and how to collect the necessary documents and permissions to realize your idea? Do you want to realize your creative idea and at the same time protect your rights as much as possible? Or maybe you plan to collaborate with authors, designers or artists, organize exhibitions or performances?
In any of these and other legal issues in the creative rights will help Law Office of Ganna Garo.
Do not delay – turn your passion into your business!
Clothes from Chanel and Gucci, Apple phones- these brands are known by everyone! And the cost of their products is often much higher than the cost of a similar product from competitors, but the demand for products of world-known corporations is only increasing, as well as the income of their shareholders. The reason for this, in particular, is the strong protection of intellectual property, which allows them to guarantee the quality of their products and win the trust of counterparties and buyers from all over the world.
Spend your time on creativity, and all legal details will be taken by the  Law Office of Ganna Garo.
Law Office of Ganna Garo provides legal services and legal assisstance in field of Creative Law:
– Support in the proper registration of rights to your invention, project, design decision, musical or artistic work, brand, etc.;
– Legal support of the implementation of your idea – the creation of a business entity, the proper execution of all necessary documents, the choice of the optimal taxation system for you;
– Legal support of questions on the creation, registration, licensing, protection, acquisition and disposal of rights to objects of intellectual property rights on the territory of Ukraine and abroad;
– Development of contracts / contracts with customers or contractors and legal support of negotiations;
– Analysis of draft contracts and assessment of the risks of their signing;
– Assistance in obtaining all necessary permits for business activity;
– Legal support of economic activity related to the use of intellectual property objects;
– Assistance in pre-trial resolving of conflicts;
– Protection of violated rights in court;
We will solve your legal issues and problems creatively!